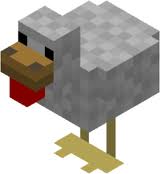 The
Chicken
class is is both long ranged and close ranged. You get the same sword as cactus and you get 10 eggs which explode. These eggs are really good to use. They can also be annoying if someone keeps spamming them. Now you can buy chicken with gems as it is one of the gem classes.
The Chicken costs a total of 50 gems to unlock.
Equipment
Edit
Wooden Sword - Sharpness 1, Knockback 1
Eggs

- explode on impact (10)
Leather armor
Chicken Head
Abilities
Edit
(None)
It is recommended that when you use chicken, you should never throw all of your eggs. Throw 2 or 3 eggs at an opponent and then go in for the kill with your sword.
Before the Maptastic Update, there was a chance to get Chicken by choosing "Random". The eggs however, did not explode.




Added by

EnderSorcererMC

This used to be the only class that had full leather armor.

It used to be 10 eggs, but they got nerfed so they can have more..