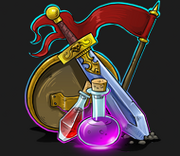 For $59.99 users can obtain PRO, and vips can updrage to pro with the discounted price of S34.99 on the offical website. The money goes towards improving Super Craft Bros.
PRO Feautures
Edit
Gain Gems 3 times as fast
Pro nametag in the servers</span>
Priority in joining full servers
Use the /join command to join maps quickly
Can create guilds (Coming soon)
Support the project in a bigger way
Ad blocker interference detected!
Wikia is a free-to-use site that makes money from advertising. We have a modified experience for viewers using ad blockers

Wikia is not accessible if you've made further modifications. Remove the custom ad blocker rule(s) and the page will load as expected.