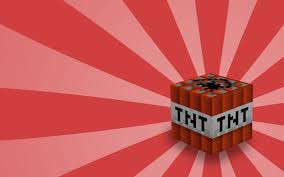 TNT is a unlockable class for SCB ; it costs 50 gems.
Equipment
Edit
TNT (3) - can be thrown ; when it touches the ground, it becomes an item and it will explode after few seconds. If it touches a player directly when thrown, without hitting the ground, it will explode instantaneously. Does up to 8 hearts of damage.
Wooden sword - Sharpness I (does 3.5 hearts of damage per hit)
Leather armor
Abilities
Edit
(none)
Strategies
Edit
As you only have leather armor, stay away from fights and only attack with you sword when the player is distracted, next to a ledge or has one life left. You can use the TNT like a mine, but throwing it into fights is also effective.
Introduced in the Strong Force update
Second block based class, the first one was cactus
When it was introduced, this class had 5 TNT's instead of 3 and they would deal enough damage to make a 1-hit K.O. After much complaining, this was nerfed.