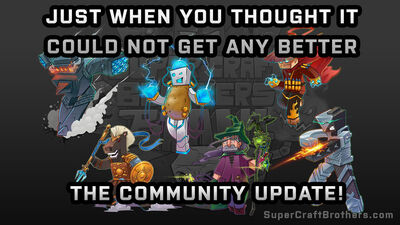 The Community Update was a major update on Super Craft Bros.
New Classes
Edit
There were 6 new classes added into this update. They are listed as followed:
Free Classes
Gem Classes
Pro Classes
There were 2 new community maps added in this update. They are listed as followed:
Other Features
Edit
A new in-game shop for legendary players: The Trail Shop.
A new command for legendary players to color their names.
Bug Fixes
Preformance Enhancements
This update was announced on January 30, 2014.
This update was released on February 9, 2014.
The new features in this update were requested ideas for classes and maps by players on the forums.
This is the first major update of 2014.
This update is the first to have a gem class that costs 175 gems.
Ad blocker interference detected!
Wikia is a free-to-use site that makes money from advertising. We have a modified experience for viewers using ad blockers

Wikia is not accessible if you've made further modifications. Remove the custom ad blocker rule(s) and the page will load as expected.